Organic Herbal Bath, Hair and Skin Care
in association with Mountain Rose Herbs
Luxurious, sweetly scented herbal products for your entire family. All of the artisan soaps, herbal shampoos and conditioners, herbal skin lotions and herbal facial serums are made from organically grown ingredients. There are herbal products for babies too! And, if you're looking for an alternative to toxic hair coloring, try 100% natural, organic henna.
Herbal Bath
Products
All of these bar soaps, liquid soaps and bath salts are made exclusively with natural, botanical, renewable or vegetable based materials.
Herbal Body Care for Babies & Children
Formulated with organic ingredients from the earth, these products are safe and soothing for babies and young children - and moms and dads too!
Herbal Body & Skin Care
Here you'll skin lotions, oils, dream pillow herbs, natural sun screen, lip balms and more, all made with organic herbal ingredients.
Favorites
Herbal Bar Soaps
Made with luxurious oils and butters, these artisan herbal soaps are cleansing, yet gentle, soothing, nourishing, and moisturizing. They have a smooth and creamy lather which leaves skin feeling silky smooth and clean without being stripped, dry, itchy, or irritated. See the Learn More link for a complete list of ingredients. Choose from 5 luscious botanical combinations.
Herbal Facial Care
Herbal scrubs, botanical facial serums, herbal skin cream and more, all made with materials that won't compromise your health or the environment.
Herbal Hair Care
All natural herbal shampoos, herbal conditioners, herbal hair oils and henna made without artificial fragrances, preservatives or sudsing agents like SLS.
Herbal Massage Oils
Made from 100% natural and organic ingredients, these exotic oils are perfect for therapeutic use or to inspire romance.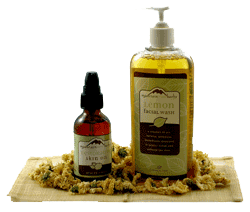 Herbal Facial Care
Each carefully crafted recipe is a synergy of luxurious botanicals created to cleanse, tone, and hydrate your skin. You will find the perfect combination of facial care products for any skin type within this line.